RISING ENERGY COSTS AT BOVEY POOL
YOUR SWIMMING POOL NEEDS YOU!
PLEASE TAKE A FEW MINUTES AND CONTINUE READING TO LEARN HOW YOU CAN HELP WITH THE RISE OF ENERGY COSTS!

A group of approximately 60 volunteers run Bovey Tracey Swimming Pool. The volunteers include Trustees, kiosk helpers and maintenance helpers. Due to the legal duty of care the lifeguards have, they are the only staff we are able to pay. The pool has been operating for over 50 years and predominantly funded by the income from pool users and boosted by donations, grants from various associations and fundraising events organised by the volunteers and Trustees.

In 2021, we had 11,821 paying customers of the pool. In addition, the pool was hired by 5 local primary schools and hired by organisations for water polo, lifesaving as examples, as well as running swimming lessons primarily for our children and conditioning swimming for adults. Bovey Tracey Swimming Pool is without a doubt an essential facility for our town and surrounding towns. It would be a terrible shame to see the doors forced shut. But that potentially is a reality.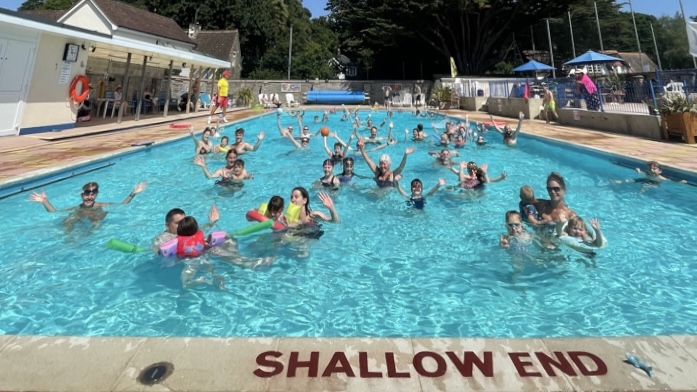 The cost of living is affecting us all. I, Ian Hutchings, along with my fellow volunteers feel the rising costs not only at the pool but also in our own homes. Sadly, with the rate the energy prices are increasing, quite simply our future looks a little bleak unless we do something about it now. An Energy Working Group (EWG) consisting of 5 volunteers has been formed, led by myself. Our task is to help reduce carbon emissions and try to reduce energy costs: the benefits of which we can all understand.

The EWG has been up and running for nearly 3 months. The work we have been doing in the background centres around electricity and gas usage, and ways in which we can become more eco-friendly and reduce energy costs. We are working closely with an expert to review all of our energy consumption and what we need to keep the pool at its normal running temperature of around 28°. We are looking at everything: what heating systems we could use that are more cost effective, how we can generate our own electricity to power these systems as well as how we can reduce our other daily running costs. It has been a huge learning curve for us but we are slowly gathering all the information we need to make an informed decision. We urgently need to address all these issues to ensure the pool's survival for many years to come.
Most importantly, we are having discussions regarding how we can raise the money to pay for the changes we need to make. Currently, we do not have a precise figure of what we will need to cover our costs. We believe it will be between £75 and £100K. It could be more or it could be less. The one thing we are fully aware of is that the pool will close in September for the winter and we only have between now and then to ask for some help from our lovely users. There are grants that we are also applying for and once we have our final costs, then with all the applicable information we have gathered, we will be submitting funding applications to relevant organisations.

The EWG are very aware that this is a difficult time to ask individuals and households for donations. However, we need your help. We all know only too well how fitness, rehabilitation after injury or medical treatment, and our own sanity is so important. We believe there are in the region of 2000 people who regularly use the pool. We are aware that some of these are from the same family. If 500 individuals or families donated £100 this would give us an amazing starting fund of £50,000 or if 1000 donated £50 this too would give us £50,000. In fact, any amount donated would be greatly appreciated and would make a huge difference.

£50,000 almost certainly will not be enough to complete the necessary work. However, once we have a clear target to work towards, we will be applying for bids from grant making organisations that might be able to support us. Many of these require the applying organisation to raise 50% for them to match fund - hence our call to action.

I, and my colleagues, are very optimistic that we will succeed in converting our pool to a carbon friendly facility, as well as keeping the energy costs down to an affordable rate. What we are asking now from you is help on the road towards achieving this by contributing to the energy fund.
Thank you so much for taking time to read my words and a huge thank you in anticipation of your support to help save our great facility.

Details of how to contribute to the Energy Fund can be found on our Donate page.
Ian Hutchings [Chair of Bovey Tracey Swimming Pool Energy Working Group]